H. K. E. Society's S. L. N. College of Engineering is run by H. K. E. Society of Kalaburgi. Hyderabad Karnataka Education Society popularly known as HKE Society, was established in the year 1958 by Late Sri. Mahadevappa Rampure at Gulbarga. The Society stands differently from others in a way that, it imparts education in the backward areas , with matchable education facilities enjoyed by affluent class in developed areas. The college was started in the year 1979 and offers following Courses awarded by VTU, Belagavi.
UG Courses
1. Civil Engineering
2. Mechanical Engineering
3. Electronics & Communication Engineering
4. Computer Science and Engineering
PG Course
1. MBA (Specializations : Finance, Marketing & Human Resources).

In last four decades College has established itself as a leading Technical Institution in Hyderabad Karnataka region and has achieved many milestones. The strength of the Institute is its Teaching faculty. Seventy five percent of staff is with teaching experience of 25+ years. This fact is reflected in the University results and career opportunities enjoyed by alumni. The personal care & student counseling off and on campus, make students feel at home and render themselves for complete personality development.
Year Long Technical activities and Training programs augment student skills and refine their career competitiveness. Regular Industrial Visits with partial financial assistance from Institute is helping students to take up need based Project works.
Principal's Message




Organization Chart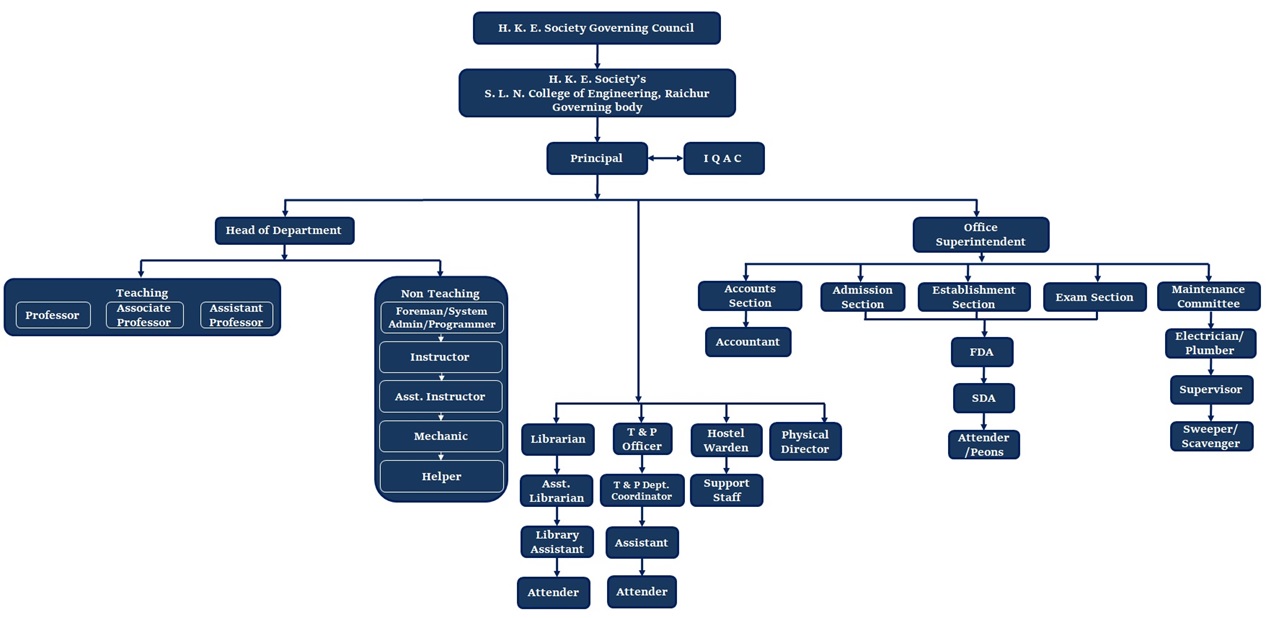 About IEEE Student Branch STB99080
IEEE Student branch (STB99080) and IEEE student Chapter "Information Theory Society" (ITS) (SBC99080) was started in the year 2021 with 12 Student members, 1 Graduate member & 4 Professional members.
Activities conducted under IEEE student branch
The IEEE student branch and student chapter ITS was inaugurated with an activity "IEEE Important & its benefits on 7th June 2021.
National level webinar on "IPR and Patent Filing Procedure" on 12th August 2021.
A webinar on "Engineering Research Academia: How to Address the Challenges" on 02nd November 2021
IEEE Student branch is renewed for the academic year 2022 with 13 student members 1 graduate member and 3 professional members.
The student branch adopted Government Higher Primary School, Yeramaras Camp for conducting student activities.
One student of 6th semester ECE Syeda Saniya Samrin got IEEE student scholarship of INR 10000 for the year 2022.
IEEE Student branch also got an allotment of operating funds of USD 74 (about INR 5400).