About
The Department of Electronics and Communication Engineering was established in the year 1984 with an intake of 60 students for UG programme. The faculty strength of the department is 12, including 1 professor,2 Associate Professors,9 Assistant Professors. Our 2 faculties have completed their Ph.D. in the area of Embedded System and Image Processing. 2 faculties are pursuing Ph.D. at VTU, Belagavi. The department has two Research Spervisors recognized by VTU, Belagavi.
The Department has acquired expertise in the area of VLSI design, Wireless Communication and networks, Image Processing , Testing and Verification of VLSI Design, Digital Signal Processing and Embedded System Design. State-of-the-art laboratories have been setup in the department for UG programme and are well equipped with computational facilities and resources both in terms of hardware and software as per AICTE/VTU norms.
The Department has 10 major laboratories namely Analog Elec. and Circuits lab,Digital Elec. Lab,Communication/LIC lab, Microprocessor lab,DSP Lab,HDL lab, Embedded controller lab,Advanced Communication lab, CCN lab, VLSI lab, Basic Electrical Engg. lab. We also have separate lab for the Project work. The department has successfully completed KSCST and VTU sponsored projects consecutively since three years.
Department regularly encourages students to participate in the various workshops, seminars, paper presentations and other curricular and cultural activities. We also encourage faculties to conduct and participate in the various workshops, seminars, International/National conferences and paper presentations,etc.
About IEEE Student Branch STB99080
IEEE Student branch (STB99080) and IEEE student Chapter "Information Theory Society" (ITS) (SBC99080) was started in the year 2021 with 12 Student members, 1 Graduate member & 4 Professional members.
Activities conducted under IEEE student branch
The IEEE student branch and student chapter ITS was inaugurated with an activity "IEEE Important & its benefits on 7th June 2021.
National level webinar on "IPR and Patent Filing Procedure" on 12th August 2021.
A webinar on "Engineering Research Academia: How to Address the Challenges" on 02nd November 2021
IEEE Student branch is renewed for the academic year 2022 with 13 student members 1 graduate member and 3 professional members.
The student branch adopted Government Higher Primary School, Yeramaras Camp for conducting student activities.
One student of 6th semester ECE Syeda Saniya Samrin got IEEE student scholarship of INR 10000 for the year 2022.
IEEE Student branch also got an allotment of operating funds of USD 74 (about INR 5400).
Vision
To emerge as centre of excellence in technical and research so that all the students meet and exceed their personal ,education career and social goals. We strive hard to occupy a place amongst the best institution.
Mission
- To promote academic excellence and contribute to the development of technical manpower.
- To strengthen link with industry through innovative tools and research skills in the domain of engineerize to solve real world problems.
SWOC
Strength:
1. Experienced and well qualified faculties.
2. Commitment towards student's academic development.
3. Research centre yet to be approved.
4. Adequate lab facilities with licensed softwares.
Weakness:
1. Lack of diversity among staff members (Research & Development).
2. Lack of exposure of present state of art for students.
3. Limited infrastructure.
4. Limited number of events organised.
Opportunity:
1. Funded skill development programs.
2. Projects to support local community and farmers.
3. Industry-Institute Interactions.
4. Scope for entrepreneurship in developing areas like Raichur.
Challenge:
1. Budget constraints.
2. Lack of support from local community.
3. Changing technology
4. Student quality and decreasing admissions.
Infrastructure
The Department has six major laboratories and a research center. We have more than 50 dual core, i3, i5 computer systems and all are connected in LAN. The department also has the Wi-Fi facility. More than 6 legal application softwares and many open license application softwares are present. Recently we have also setup research center. Reprographics facilities are also available in the department itself. All the labs have First Aid facilities. All the Labs are fitted with CCTVs.

Laboratory Details
Name of the Lab

Area in Sq.m

Major Equipments

Lab 1
DSP Lab/Embedded Controller Lab
34.94
Computer systems, Function Generator, CROs , Power Supplies
Lab 2
Microcontroller Lab
58.97
Computer systems, 8051 kits & I/O Modules, CROs , Printer, Ups
Lab 3
Electronic Devices & Inst. Lab/Analog Circuits Lab
74.03
Function Generators, CROs , Power Supplies, Signal Generators
Lab 4
Digital System Design Lab
74.03
Pulse Generators, Power Supplies, CROs , Digital Trainer Kits
Lab 5
Advanced Communication Lab
57.72
Function Generator, Signal Generator, CROs, Power Supplies, Microwave Bench, Fibre Optic Kit, Mirostrip Trainer, Communication Kits
Lab 6
Basic Electrical Engineering Lab
83.60
Electrical Lab Trainer Kits
Lab 7
Research Centre
53.44
Computer Systems, Power Supplies, Function Generators, DSO's
PSOs & COs
Programme Specific Outcomes


PSO1: Specify, design, build and test analog and digital systems for signal processing including multimedia applications, using suitable components or simulation tools.
PSO2: Understand and architect wired and wireless analog and digital communication systems as per specifications, and determine their performance.
Course Outcomes:
| | |
| --- | --- |
| Course Name | TRANSFORM CALCULUS, FOURIER SERIES AND NUMERICAL TECHNIQUES |
| Course Code | 21MAT31 |
| CO1 | To solve ordinary differential equations using Laplace transform |
| CO2 | Demonstrate Fourier series to study the behaviour of periodic functions and their applications in system communications, digital signal processing and field theory. |
| CO3 | To use Fourier transforms to analyze problems involving continuous-time signals and to apply ZTransform techniques to solve difference equations |
| CO4 | To solve mathematical models represented by initial or boundary value problems involving partial differential equations |
| CO5 | Determine the extremals of functionals using calculus of variations and solve problems arising in dynamics of rigid bodies and vibrational analysis |
| | |
| --- | --- |
| Course Name | Digital System Design Using Verilog |
| Course Code | 21EC32 |
| CO1 | Simplify Boolean functions using K-map and Quine-McCluskey minimization technique |
| CO2 | Analyze and design for combinational logic circuits |
| CO3 | Analyze the concepts of Flip Flops (SR, D, T and JK) and to design the synchronous sequential circuits using Flip Flops |
| CO4 | Model Combinational circuits (adders, subtractors, multiplexers) and sequential circuits using Verilog descriptions |
| | |
| --- | --- |
| Course Name | Basic Signal Processing |
| Course Code | 21EC33 |
| CO1 | Understand the basics of Linear Algebra |
| CO2 | Analyse different types of signals and systems |
| CO3 | Analyse the properties of discrete-time signals & systems |
| CO4 | Analyse discrete time signals & systems using Z transforms |
| | |
| --- | --- |
| Course Name | Analog Electronic Circuits |
| Course Code | 21EC34 |
| CO1 | Understand the characteristics of BJTs and FETs for switching and amplifier circuits |
| CO2 | Design and analyze FET amplifiers and oscillatorswith different circuit configurations and biasing conditions |
| CO3 | Understand the feedback topologies and approximations in the design of amplifiers and oscillators |
| CO4 | Design of circuits using linear ICs for wide range applications such as ADC, DAC, filters and timers |
| CO5 | Understand the power electronic device components and its functions for basic power electronic circuits |
| | |
| --- | --- |
| Course Name | Analog and Digital Electronics Lab |
| Course Code | 21ECL35 |
| CO1 | Design and analyze the BJT/FET amplifier and oscillator circuits |
| CO2 | Design and test Opamp circuits to realize the mathematical computations, DAC and precision rectifiers |
| CO3 | Design and test the combinational logic circuits for the given specifications |
| CO4 | Test the sequential logic circuits for the given functionality |
| CO5 | Demonstrate the basic electronic circuit experiments using SCR and 555 timer |
Course Name
AEC (Analog Electronic Circuits) Lab
Course Code
21EC382
CO1
Understand the circuit schematic and its working
CO2
Study the characteristics of different electronic devices
CO3
Design and test simple electronic circuits as per the specifications using discrete electronic
components
CO4
Compute the parameters from the characteristics of active devices.
CO5
Familiarize with EDA software which can be used for electronic circuit simulation.
Course Outcome for other Semesters : Click here
Research Centre
Research centre for Electronics and Communication Engineering was Established / Recognised for the academic Year 2019-20 and continuation of Research Centre recommended for the period of two years 2020-22 by VTU, Belagavi.
The main objective of the proposed research centre at Department of Electronics and Communication Engineering of our college is to provide research facilities for students, faculties and research scholars under doctoral and masters programs to fulfil their research requirements and to support their innovative ideas.
We are planning to have a Memorandum of Understanding with industries to upgrade the students and staff with the most upcoming technologies in the industry.
The department has two research supervisors recognised by VTU. The research centre is facilitated with 20 computing systems with legal softwares like LABVIEW, Xilinx and MATLAB. The research centre also has seven subscriptions of national and internal journals. We also have access to journals through VTU consortium.
We look forward to have good projects and grants from renowned organisations and boards like AICTE, UGC, VTU, KSCST etc., so that we can develop our college as well as our ambience.
International Conference on Intelligent Engineering Approach
Feedback Analysis 2019-20
4th Semester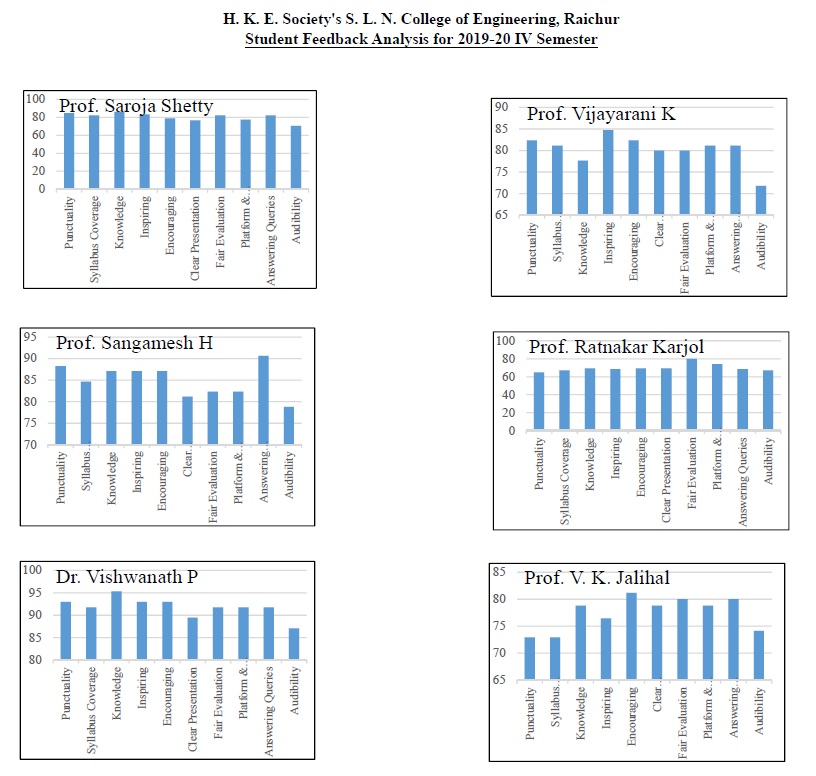 6th Semester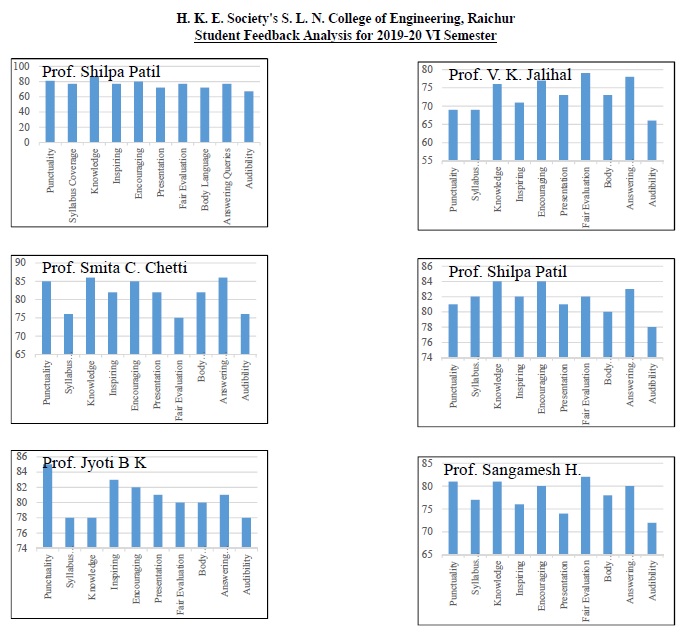 8th Semester