Research centre for Electronics and Communication Engineering was Established / Recognised for the academic Year 2019-20 and continuation of Research Centre recommended for the period of two years 2020-22 by VTU, Belagavi.
The main objective of the proposed research centre at Department of Electronics and Communication Engineering of our college is to provide research facilities for students, faculties and research scholars under doctoral and masters programs to fulfil their research requirements and to support their innovative ideas.
We are planning to have a Memorandum of Understanding with industries to upgrade the students and staff with the most upcoming technologies in the industry.
The department has two research supervisors recognised by VTU. The research centre is facilitated with 20 computing systems with legal softwares like LABVIEW, Xilinx and MATLAB. The research centre also has seven subscriptions of national and internal journals. We also have access to journals through VTU consortium.
We look forward to have good projects and grants from renowned organisations and boards like AICTE, UGC, VTU, KSCST etc., so that we can develop our college as well as our ambience.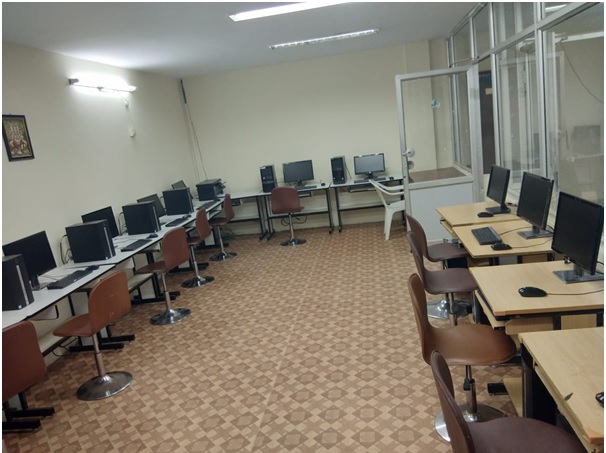 Admission Procedure
Department of Electronics and Communication Engineering offers research program leading to award of PhD (Doctor of Philosophy) under Visvesvaraya Technological University (VTU), Belagavi.
ELIGIBILITY FOR ADMISSION
Minimum Qualifications to be satisfied
The Qualification criteria for admission to the Ph.D. programme in Electronics and Communication Engineering Faculty
The Candidates shall possess a Master's Degree in Engineering/Technology or an equivalent Degree or M.S. (Research) Degree from the University or any other University recognized by VTU, with a minimum CGPA of 6.75 out of 10 or 60% aggregate marks at either the Bachelor's or the Master's Degree.
Any foreign University Degree holders (UG&PG) are required to submit AIU equivalence Certificate.
Full-Time Ph.D. Programme
Candidates, who are not employed and Candidates who are sponsored/deputed are eligible to Full time Ph.D. programme.
Candidates who take up Ph.D. programme on Fulltime basis shall not be allowed to take up any employment during the period of Ph.D. programme. However, they can receive Scholarship/ fellowship/ stipend/ assistantship, if any, with intimation to the Registrar.
Candidates under ADF/QIP /FIP shall be eligible to pursue Ph.D. research only on full time basis.
ADF/QIP /FIP Candidates, who take up Ph.D. Programme on Fulltime basis, shall produce NOC from their Employer/Organization(s) with a sanctioned study leave for a minimum period of three years with full salary.
Part-Time Ph.D. Programme
Ph.D. programmes through part-time mode will be permitted, provided all the conditions stipulated in these Regulations are fulfilled.
In-service Candidates having a minimum professional experience of one year after their PG Degree and working in any Engineering College/ Polytechnic/ University/ Deemed to be University (recognized / accredited by appropriate bodies in India) or Research Staff of Public /Private /Corporate Organizations shall be eligible to pursue Ph.D. research on a Part- Time basis.
The candidate shall submit to the University a "No Objection Certificate" for a Part Time Ph.D. programme from the appropriate authority in the organization where the candidate is employed, clearly stating that:
The candidate is permitted to pursue studies on a Part-Time basis.
His/her official duties permit him/her to devote sufficient time for research.
If required, he/she shall be relieved from the duty to complete the course work.
Mandatory Residence Period: All Part-Time Research Scholars shall put in a minimum of fifteen (15) days of residence period twice a year at his/ her Research Center before every review of the Research Advisory Committee till the submission of the final Synopsis covering all the chapters of the Thesis.
ADMISSION PROCESS
The admission process to the Ph.D. Programme shall be as follows:
The admission shall be based on the criteria notified by the University, keeping in view the guidelines/ norms in this regard issued by the UGC and other statutory/ regulatory bodies concerned, and taking into account the reservation policy of the Central/State Government from time to time.
Admission to the Ph.D. programme shall be made using the following methods:
University may admit students who qualify for fellowship/scholarship in UGCNET/ UGC-CSIR NET/GATE/CEED and similar National level tests based on an interview.
University shall admit students through an Entrance Test, called VTU-ETR, conducted at the level of the University. The Entrance Test syllabus shall consist of 50% of research methodology, and 50% shall be subject- specific.
Students who have secured 50% marks in the entrance test are eligible to be called for the interview.
A relaxation of 5 % marks will be allowed in the entrance examination for the candidates belonging to SC/ST/OBC/differently-abled category, Economically Weaker Section (EWS), and other categories of candidates as per the decision of the UGC from time to time.
HEIs may decide the number of eligible students to be called for an interview based on the number of Ph.D. seats available.
Provided that for the selection of candidates based on the entrance test conducted by the University, a weightage of 70% for the entrance test and 30 % for the performance in the interview/viva- voce shall be given.
DURATION:
For Part-Time Ph.D. Programme 4 years to 6 years
For Full-Time Ph.D. Programme 3 years to 6 years
NOTIFICATION FOR ADMISSION
The admission to Ph.D. programmes shall be made twice in an academic year by the University.
The University shall call for Applications for Admissions on its website and through advertisement in at least two National newspapers, of which at least one shall be in the regional language, covering:
The procedure to be followed for Ph.D. admissions,
Eligibility requirements, to be satisfied for getting admitted,
Number of seats to be filled at each VTU approved Research Center,
VTU-ETR details: Dates, Centers, Syllabi etc., and how to apply,
Calendar for pre-registration interview and other events,
Information on available Scholarships, assistantships, if any
Submission of Application from the eligible Candidates shall be submitted as follows:
All eligible Candidates satisfying the requirements as per the VTU guidelines shall submit their applications via the web link https://jnanashodha.vtu.ac.in for VTU–ETR.
Exemption from VTU-ETR
The following categories of Candidates shall be exempted from appearing at VTU-ETR with the approval of Admissions Committee.
Full-time NRI/FN/PIO Candidates.
Candidates selected under ADF/QIP / FIP.
Candidates qualified in the UGC-NET (including JRF)/UGC-CSIR NET (including JRF) / SLET/GATE/CAT or other similar national tests and having qualifying percentile/percentage scores in their respective validity periods.
Candidates with M.Phil. Degree or equivalent as recognized by the University.
Candidates with valid VTU – ETR score.
The percent score obtained by the Candidates in the VTU-ETR shall form the basis for preparing the merit list of successful Candidates which shall be valid for two academic years only.
For registration : Click here
Circulars and Notifications related to Research